"

These guys bring Classic Rock To Move Your Soul, both on stage and recordings." - A Fan
Rough Draft Rocks is a unique blend of 3 distinctly different individuals who collectively bring you authentic Classic Rock music second to none (sometimes with a touch of humor!). All three guys share the vocals; each has his own voice. They all grew up in the 60's and 70's and present a nice array of originals and classic rock standards. These guys bring "Classic Rock To Move Your Soul", both on stage and recordings. Rough Draft Rocks is currently playing venues in the Chicago market and are currently recording their second album.
Press Photos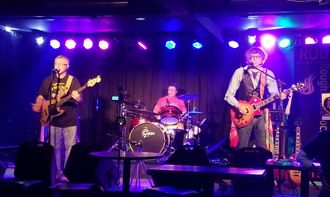 Feel free to call Gerry: 847-380-0248 or email: Gerry@roughdraftrocks.com. Or use the contact form below. Hope to hear from you soon!
Gerry Cote on Guitar is all about late 60's to early 70's Classic Rock. He can't get enough of Les Paul guitars and Marshall Amps. Playing all his life, age has not slowed him down one bit! Someone recently said, "His guitar playing sounds like himself". His style is Classic Rock meets Electric Blues; you always know it's him. Gibson and Marshall don't endorse Gerry, but they should!
Eddy K on Bass has studied privately and at Musician Institute in California. He has played rock, jazz, country blues and original hybrids in trios to orchestras. No two songs are alike with Ed. He is a massively creative bass player who always finds a unique way to play each song. A recent fan stated that "Ed brings the Muscle to the band!" 
Dave Kohn on Drums brings a diverse drumming experience with influences of John Bonham, Buddy Rich, Bill Bruford, Tony Williams, and Phil Collins. He is capable of combining technical prowess and sensitive musicality with an intense enthusiasm to create the quality of performance for which he has become so well known. Dave always says, "There is a special drum part for each song; I just have to find it". And Dave always does!